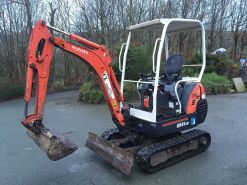 I
can undertake all types of excavation and groundworks. My groundworks services include digging driveways, landscaping, digging ponds, digging foundations, laying trenches for water pipes, soil pipes, and electrical cables, laying land drainage including the installation of french drains, leveling land, moving soil in contact with buildings and digging out tree stumps.
I will happily quote you a price for your groundworks requirements and I can also offer our excavation services on a daily basis. My daily rates (available upon request) include delivery of equipment to your site and an operator. Please note that I do not hire digging equipment for self operation.
French Drains
.
A French drain, perimeter drain or land drain is a trench filled with gravel that redirects surface or groundwater away from an area. Modern French drains have a perforated hollow pipe along the bottom of the trench to quickly vent water that seeps down through the gravel (see diagram below).